2013 | OriginalPaper | Chapter
7. Object and Object Relational Databases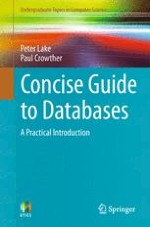 Authors: Peter Lake, Paul Crowther
Publisher: Springer London
Log in
Abstract
One of the issues with data is that it has become more and more complex. As we saw in Chap.
2
there was a transition from early file based systems to more complex database systems which could be accessed using a query language. The format of data in relational systems is primarily alphabetic, numeric or alphanumeric with some special types such as date. In a relational database one is able to search, manipulate and select data with a powerful query language, SQL. As seen in Chap.
4
, relational databases became the de facto standard for this type of data. However there is a growing demand to store complex objects and retrieve them. Databases are also being increasingly used in systems written in object oriented programming languages such as C++ and java which does not fit well with SQL. To overcome these problems standards for object oriented databases have been proposed. As a compromise solution some vendors, including Oracle have developed an object relational system where object structures have been incorporated into the relational model.