2002 | OriginalPaper | Chapter
Pilgrimage in Medieval Culture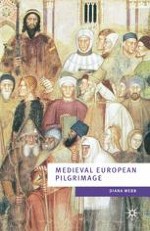 Author: Diana Webb
Publisher: Macmillan Education UK
Log in
Pilgrimage did not lose its power over the imagination even when and where the Protestant Reformation brought its actual practice to an end. The opening lines of a poem once attributed to Sir Walter Ralegh can be quoted in evidence of this:
Give me my scallop-shell of quiet, My staff of faith to walk upon, My scrip of joy, immortal diet, My bottle of salvation, My gown of glory, hope's true gage; And thus I'll take my pilgrimage.
These lines reveal an interesting duality. First there is the marvellous fitness of the pilgrimage journey as a metaphor for the progress of man's bodily life from birth to death and of his spiritual life from earth to heaven. Later still in Protestant England, John Bunyan famously so used it in
The Pilgrim's Progress
. Secondly, there is the panoply of visual emblems. The scallop-shell was specifically associated with the pilgrimage to Compostela, but was often used as a symbol of pilgrimage in general. The 'scrip' or satchel contained the pilgrim's necessaries; the staff was his indispensable prop (and perhaps even weapon) and the water-bottle was equally indispensable. The poem points us to two areas in which pilgrimage left a mark on European culture, the visual and the literary. The following discussion will consider examples in both these categories, but it does not present anything like a complete inventory of the cultural reflections of medieval pilgrimage.