2016 | OriginalPaper | Chapter
Planning, Is It For You?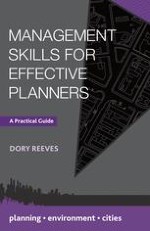 Author: Dory Reeves
Publisher: Macmillan Education UK
Log in
As it is a relatively young, and a numerically minor, profession, it is not surprising that many people know little about planning. Some would even go so far as to say that it is one of the most misunderstood professions. 'It isn't just rocket science, it is a lot more complex than that' (Farmer 2012: xix). Although the places around us have been shaped by planning, or lack of it, as individuals we may not come into contact with a planner or the planning system in our day-to-day lives unless we make an effort to engage. Planning has not had the popular television exposure of the medical or legal professions -or for that matter the law enforcement agencies. Many will have consulted a medical practitioner or dentist from an early age and understand that they look after people's health and teeth. Many will regularly read newspapers and magazines, online or in hard copy, and have an understanding that people called journalists write copy for these media. The environment contains structures and buildings which are automatically associated with architects and engineers. Little thought is given to the role planners will have played in allocating land for the activity and establishing the basic spatial planning principles and helping to create overall designs which are sensitive to local needs.