2013 | OriginalPaper | Chapter
Poet as Storyteller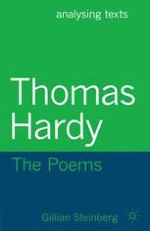 Author: Gillian Steinberg
Publisher: Macmillan Education UK
Log in
We will focus on two parts of this seven-part poem. First, we will consider the sixth of the seven poems, entitled "A Wife Waits":
Will's at the dance in the Club-room below, Where the tall liquor-cups foam; I on the pavement up here by the Bow, Wait, wait, to steady him home.

Will and his partner are treading a tune, Loving companions they be; Willy, before we were married in June, Said he loved no one but me;

Said he would let his old pleasures all go Ever to live with his Dear. Will's at the dance in the Club-room below, Shivering I wait for him here.
Written in four-line stanzas with alternating patterns of four feet and three feet per line, this poem's rhythm resembles the raucous dancing it depicts in the fair's dance hall. Hardy's emphasis is not merely on describing the place or the scene but on telling the story of William, whose wife reports that he once "said he loved no one but me" but who now dances with a different partner. The sadness of the poem's theme counteracts its festive rhythm, comingling William's gaiety with his wife's solitude.