1999 | OriginalPaper | Chapter
Poetry of Two World Wars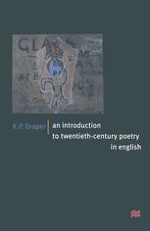 Author: R. P. Draper
Publisher: Macmillan Education UK
Log in
In the unfinished Preface to what seems to have been intended as a volume of his war poems Wilfred Owen wrote:
This book is not about heroes. English Poetry is not yet fit to speak of them.

Nor is it about deeds, or lands, nor anything about glory, honour, might, majesty, dominion, or power, except War.

Above all I am not concerned with Poetry.

My subject is War, and the pity of War.

The poetry is in the pity.