2005 | Poetry | Book
John Keats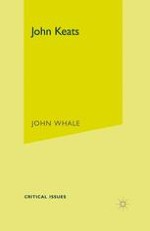 Publisher: Macmillan Education UK
Print ISBN: 978-0-333-99449-8
Electronic ISBN: 978-1-4039-0706-6
About this book
This book offers an exciting reassessment of Keats with particular emphasis on gender identity and sexuality. Traditionally, Keats has been more readily associated with the 'feminine' than any other canonical male English poet. This feminization was always likely, given his tragically early death and the mythologizing which took place soon after. In contrast, John Whale explores Keats's writings from the perspective of masculinity and gender by placing them in the context of contemporary friendship groupings and coterie relationships.

Whale addresses all the major poems and gives due prominence to the letters. In so doing, he offers a new understanding of Keats's exploration of poetry, gender and desire, and provides an extended analysis of Keats's quest for poetic fame in the face of the often conflicting forces of love and sexuality.

Clear, concise and insightful, this is an essential guide to one of the best-known Romantic poets.
Title

John Keats

Publisher

Macmillan Education UK

Print ISBN

978-0-333-99449-8

Electronic ISBN

978-1-4039-0706-6

Copyright Year

2005

DOI

https://doi.org/10.1007/978-1-4039-0706-6

Author:

John Whale


Keywords