2001 | OriginalPaper | Chapter
Policing the Mentally Disordered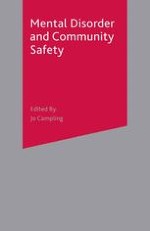 Author: Philip Bean
Publisher: Macmillan Education UK
Log in
The civil commitment procedures under Sections 2, 3 and 4 of the 1983 Mental Health Act give powers for patients to be detained in hospitals when the patients are seen and examined in their own homes. Powers exist under Section 136 of the Act for patients in a public place, if they appear to be suffering from mental disorder, to be taken to a place of safety where they can be seen by a psychiatrist and an ASW in order that a decision can be made about treatment and care. Briefly, the legislation authorises a
police constable who finds a person who appears to be suffering from mental disorder in a place to which the public have access to remove that person to a place of safety. He may do so, if the person

(a)

Appears to be in immediate need of care and control

(b)

If the constable thinks it is necessary to do so in the interests of that person or for the protection of other persons.

A person so removed to a place of safety may be detained for a period not exceeding 72 hours.