2016 | Political Science | Book
Contemporary Political Theory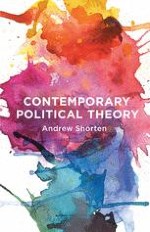 Publisher: Macmillan Education UK
Print ISBN: 978-1-137-29914-7
Electronic ISBN: 978-1-137-29916-1
About this book
Introducing the major theories, issues and concepts in contemporary political theory, this text is a comprehensive and engaging introduction to the field. The book examines a range of topics to explore questions such as:

• What kinds of political community best support democracy?
• Do members of wealthy societies have duties to eradicate global poverty?
• Who or what should be the authority on human rights?

Chapters are carefully organized to enhance learning by first setting out rival perspectives on key political issues which are then compared and analysed through a series of key debates. Discussion boxes are used throughout the book to consider the policy implications of different theoretical perspectives from thinkers including John Rawls, Susan Okin, Isaiah Berlin, Jane Mansbridge and Will Kymlicka. Offering an in-depth survey of the landscape of contemporary political theory and written in an engaging and lively style, this book will equip students with the tools to think through the complex questions whose answers determine our collective political lives.

Title

Contemporary Political Theory

Publisher

Macmillan Education UK

Print ISBN

978-1-137-29914-7

Electronic ISBN

978-1-137-29916-1

Copyright Year

2016

DOI

https://doi.org/10.1007/978-1-137-29916-1

Author:

Andrew Shorten


Keywords

Online publication date

2016