1997 | OriginalPaper | Chapter
Politics, Finance and Government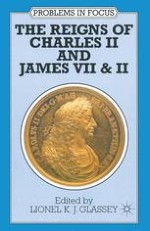 Author: Lionel K. J. Glassey
Publisher: Macmillan Education UK
Log in
One familiar view of the Restoration was well expressed by John Evelyn:
This day [29 May 1660] came in his Majestie

Charles

the 2d to London after a sad, & long Exile … The wayes straw'd with flowers, the bells ringing, the streetes hung with Tapissry, fountaines running with wine … Trumpets, musick & myriads of people flocking … I stood in the strand, & beheld it, & blessed God: And all this without one drop of bloud.

1
Evelyn may well have rubbed shoulders with the Covent Garden barber, Thomas Rugg, who recorded that, 'beeinge in the Strond', he listened to 'such shouting as the oldest man alive never heard the like … all things [done] that might express joy'.
2
Thomas Lamplugh, a future Archbishop of York, also witnessed the King's entry into London. 'Never was any Prince so welcome to his people', he told his friends, adding that there had been 'such acclama[ti]ons as I want words to expresse'.
3
North of the border, Edinburgh had rejoiced at the proclamation of Charles II a fortnight earlier. John Nicoll, a lawyer, described in his diary the sound of bells, trumpets and drums, with toasts 'breking numberis of glasses', and much 'dancing about the fyres, and using all uther takins of joy for the advancement and preference of thair native King to his croun and native inheritance'.
4