2017 | OriginalPaper | Chapter
Politics over markets: does politics – and left and right – still matter?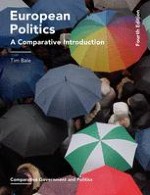 Author: Tim Bale
Publisher: Macmillan Education UK
Log in
In 2009, Iceland, one of the European countries worst hit by the world financial crisis, experienced something akin to a revolution – or at least a demonstration that 'people power' still counts. The country's right-wing government, which many ordinary Icelanders felt – with some justification – had let the country's investment and banking sectors run out of control during the boom years until it had little choice but to allow them to go bust, was refusing to acknowledge responsibility and clinging onto power. In January 2009, when parliament (the Althingi) assembled after the Christmas break, thousands came out onto the surrounding streets, many banging together pots and pans to force legislators to listen them. Eventually, one of the government parties cracked and pulled the plug on the coalition, leading to the formation, just prior to and then after a general election, of the country's first socialist-green party government and its first female prime minister, Jóhanna Sigurðardóttir, who was incidentally also Europe's first openly lesbian head of government. But although her administration committed itself to protect citizens on low incomes, it could not completely avoid cutbacks (or, to employ a seemingly universal contemporary euphemism, 'fiscal consolidation'). Fortunately, due in part to international financial assistance and Iceland's ability to devalue its currency and impose capital controls – not something those European countries tied to the EU's single currency enjoy – the country's economy recovered relatively rapidly.