2002 | OriginalPaper | Chapter
Prologue: Some Home Truths?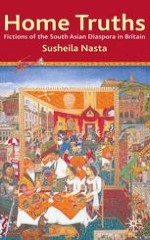 Author: Susheila Nasta
Publisher: Macmillan Education UK
Log in
Home, it has been said, is not necessarily where one belongs but the place where one starts from. As a way therefore of opening this book on the fictions of the South Asian diaspora in Britain, I should outline some questions which have provided the background to its inception. A great deal of critical attention has recently been given to the theoretical remapping of literature and the consequent questioning of the traditional English canon. Cultural and literary theorists have frequently raised the question of how cultures and literary representations of those cultures are to be located in an inherently fluid and transnational global world. Moreover, in the now established field of postcolonial literary studies, the question of 'home' has increasingly come to be a vexed terrain. This is not surprising. For the notion of 'home', with all the political, ideological and symbolic baggage that it still implies, was one which formed an integral part of the naturalized rhetoric of Britain as Empire and has lingered on in the nationalistic grammar of Britain as post-imperial nation.