2000 | OriginalPaper | Chapter
Psychoanalysis and/or Feminism?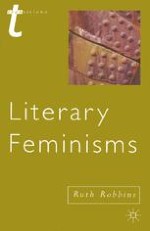 Author: Ruth Robbins
Publisher: Macmillan Education UK
Log in
The relationships between psychoanalysis and feminisms have been both fraught and fruitful. For many of the early writers in feminist criticism, the two modes of thinking were distinctly incompatible. The 'and/or' of this chapter's title represents the discomfort that the theories of Sigmund Freud and his followers in the field caused to a critique that was avowedly materialist, historical and politicised. In those early days, Freud was read as having only negative connotations for women in general, and for women as readers and writers. For Kate Millett, Freud was 'beyond question the strongest individual counterrevolutionary force in the ideology of sexual politics' of the twentieth century (Millett 1977, 178). Her critique is based on her sense that Freud's writings rendered biology as destiny, and forgot to account for the specificity of social acculturation in the Western European family of the late nineteenth and early twentieth centuries.