2013 | OriginalPaper | Chapter
Recovery from what?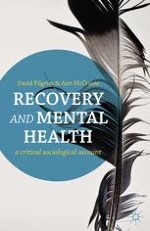 Authors: David Pilgrim, Ann McCranie
Publisher: Macmillan Education UK
Log in
The notion of recovery from mental health problems springs from a post-Enlightenment assumption that madness and misery are undesirable pathological states amenable to improvement. As Twain suggests above, 'cheering' someone else up could even have a benefit for the self. 'Recovery' suggests a return from an unhappy place of alienation from others or even from the self. The recovering person may be seen as one who is undertaking an existential journey in the resurrection imagery of Dylan Thomas's verse above. They have travelled to that unhappy place and they are now awaiting, or already using, a return ticket to 'normality'. That return to the moral territory of everyday reasonableness, expected of adult citizens, could be attributed to the efforts of patients or to their informal or paid carers or to some negotiation between these parties. However, along with the notion of recovery comes the assumption that the return ticket is actually available. Recovery is now on offer to — perhaps even an expected undertaking of — all of those deemed by themselves or others to be mentally disordered.