2012 | OriginalPaper | Chapter
Reform, Nationalism and the 'Woman Question' (1897–1912)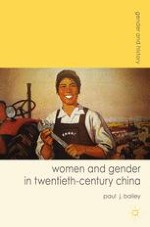 Author: Paul J. Bailey
Publisher: Macmillan Education UK
Log in
In 1905 Qiu Jin (1875–1907), a female Chinese overseas student in Japan who two years later became a 'revolutionary martyr' when she was executed for being implicated in an anti-dynastic uprising, began writing a prose/verse narrative (known as a
tanci
, a traditional literary genre usually recited and sung and which was popular amongst female audiences).
1
In the preface to this utopian tale of the political awakening of five 'beauties' transformed into revolutionary heroines, Qiu Jin drew a bleak picture of China's current womanhood, trapped in a 'world of darkness, as though drunk or dreaming'. She continued:
Let me ask you, of our 200 million women, how many shall grovel at the feet of tyrannical men? Alas, today they continue to powder and paint themselves, chatter about their hairdos and bind their feet, adorn their heads with gold and pearls, and drape their bodies with brocade … . They are no more than the servile and shameless playthings of men. (Dooling and Torgeson, 1998, pp. 43–4)
As with many reformers and revolutionaries of the time, Qiu Jin highlighted the 'failings' of Chinese women in order to explain the country's weakened state.