2013 | OriginalPaper | Chapter
5. Remote Method Invocation (RMI)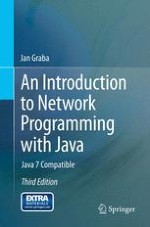 Author: Jan Graba
Publisher: Springer London
Log in
Abstract
With all our method calls so far, the objects upon which such methods have been invoked have been
local
. However, in a distributed environment, it is often desirable to be able to invoke methods on
remote
objects (i.e., on objects located on other systems).
RMI
(
Remote Method Invocation
) provides a platform-independent means of doing just this. Under RMI, the networking details required by explicit programming of streams and sockets disappear and the fact that an object is located remotely is almost transparent to the Java programmer. Once a reference to the remote object has been obtained, the methods of that object may be invoked in exactly the same way as those of local objects. Behind the scenes, of course, RMI will be making use of byte streams to transfer data and method invocations, but all of this is handled automatically by the RMI infrastructure. RMI has been a core component of Java from the earliest release of the language, but has undergone some evolutionary changes since its original specification.