1981 | OriginalPaper | Chapter
Rhyme, Rhythm, and Stanza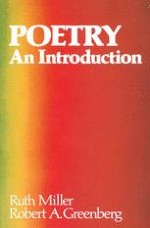 Authors: Ruth Miller, Robert A. Greenberg
Publisher: Macmillan Education UK
Log in
The very best way to read a poem is to read it aloud, for although poems usually come to us as a visual experience, as words locked into the printed page, they are intended to be heard as well as seen. An attentiveness to the sounds and patterns of sound is essential to the full appreciation of most poems. For example, the rhythm and other sound patterns may contribute to a sense of dignity and stateliness, as in the opening lines of John Milton's "On the Morning of Christ's Nativity":
This is the month, and this the happy morn, Wherein the Son of Heaven's Eternal King, Of wedded maid and virgin mother born, Our great redemption from above did bring; For so the holy sages once did sing, That he our deadly forfeit should release, And with his Father work us a perpetual peace.
The sounds of another poem may approach those of ordinary conversation, as in the opening lines of W. H. Auden's "The Unknown Citizen":
He was found by the Bureau of Statistics to be One against whom there was no official complaint, And all the reports on his conduct agree That, in the modern sense of an old-fashioned word, he was a saint.