1999 | OriginalPaper | Chapter
Science and Nature: The Spectator, Gulliver's Travels and The Seasons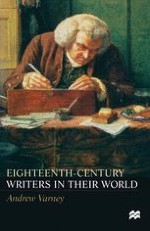 Author: Andrew Varney
Publisher: Macmillan Education UK
Log in
In
Spectator
565 (9 July 1714) Addison describes himself taking a delightful walk at sunset. As the stars come out he is, however, prompted to a sobering speculation:
when I considered that infinite Hoste of Stars, or, to speak more Philosophically, of Suns, which were there shining upon me, with the innumerable Sets of Planets or Worlds, which were moving round their respective Suns; When I still enlarged the Idea, and supposed another Heaven of Suns and Worlds rising still above this which we discovered, and there still enlightened by a superior Firmament of Luminaries, which are planted at so great a Distance that they may appear to the Inhabitants of the former as the Stars do to us; In short, whilst I pursued this Thought I could not but reflect on that little insignificant Figure which I myself bore amidst the Immensity of God's Works.

1
In
Paradise Lost
which appeared in 1667, just five years before Addison's birth, the human pair were the focus of universal attention, divine and satanic, angelic and diabolic. By the time Addison at thirty-six was writing, the discoveries of the new science had so far penetrated the national consciousness that they seemed to call for an entire new understanding of the cosmos, and a radically revised theology to explain it. It was not so much that all the discoveries were new as that the habits and technologies of investigative science, with the telescope and the microscope particularly, had confirmed them with an unimaginable comprehensiveness: it seemed not only that a new universe extending from atomic minuteness to multi-galactic vastness had come into view, but that a new way of knowing it had emerged. Science was displacing Revelation, investigation and demonstration shouldering aside faith and intuition. This chapter looks at some of the intellectual and cultural implications of the new science and at how these surfaced in the work of Addison, Swift and Thomson.