2005 | OriginalPaper | Chapter
Segregation: Home-Grown or Imported?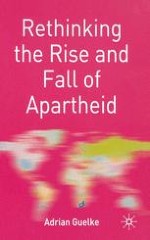 Author: Adrian Guelke
Publisher: Macmillan Education UK
Log in
In his seminal comparison of the southern states of the United States of America and South Africa, John W.Cell describes segregation as 'a phase, the highest stage, in the evolution of white supremacy'.1 According to Cell, usage of the term 'segregation' in its modern meaning of racial discrimination dates from the 1890s in the case of the United States of America and from the 1900s in the case of South Africa. The timing was not coincidental. South African segregationists paid close attention to the American example.2 Saul Dubow notes that the term was used at the 1902 opening of the parliament of the Cape Colony, as well as in the report in 1905 of the Lagden Commission.3 However, there were clearly precedents for segregation in practices that date much earlier than the 1890s in the United States of America and the 1900s in South Africa. Complicating the question of origins is that segregation, like apartheid, consisted of a number of different strands. That also makes it difficult to put a definite date to the start of the era of segregation in either country. Thus, in the case of South Africa, some writers attach most importance to the framing of an overall approach to 'native policy' as it was described; others to the actual passage of legislation to enforce segregation.