2007 | Shakespeare | Book
Why Shakespeare?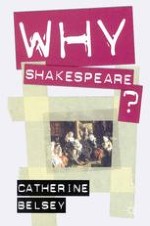 Publisher: Macmillan Education UK
Print ISBN: 978-1-4039-9320-5
Electronic ISBN: 978-1-137-06776-0
About this book
Why is Shakespeare as highly regarded now as he ever has been? This book's answer to this question counters claims that Shakespeare's iconic status is no more than an accident of history. The plays, Belsey argues, entice us into a world we recognize by retelling traditional fairy tales with a difference, each chapter providing a detailed reading.


Title

Why Shakespeare?

Publisher

Macmillan Education UK

Print ISBN

978-1-4039-9320-5

Electronic ISBN

978-1-137-06776-0

Copyright Year

2007

DOI

https://doi.org/10.1007/978-1-137-06776-0

Author:

Catherine Belsey


Keywords