2014 | OriginalPaper | Chapter
Should Shareholders Have Power Over the Company?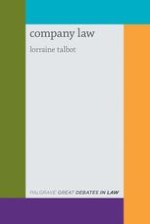 Author: Professor of Law Lorraine Talbot
Publisher: Macmillan Education UK
Log in
Over a century ago Veblen wryly noted that shareholders are engaged in the 'pursuit of something for nothing', an inactivity which modern society perversely conceives as superior to getting something from engaging in actual productive activity! In his words, 'Any person who falls short in this pursuit of something for nothing, and so fails to avoid work in some useful occupation, is a shiftless ne'erdo-well; he loses self-respect as well as the respect of his neighbours and is in a fair way to be rated as an undesirable citizen.'1 However, the current consensus in Europe and in the United States is that shareholders should do a little for something and so shareholder power should be increased and it should be exercised forcefully, meaningfully and responsibly by shareholders.2 I argue here that they should not do more, nor should they have power over the company. Indeed, Veblen's 'something for nothing' scenario is much to be preferred to the current position on shareholder power and activism.