2016 | OriginalPaper | Chapter
Should the Natural Environment Be Protected for Future Generations?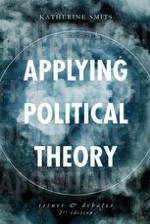 Author: Katherine Smits
Publisher: Macmillan Education UK
Log in
Western political theory is based on the assumption that political communities extend backward into the past and forward into the future. It is a fundamental characteristic of post-Enlightenment thinking, shared by political philosophers and social scientists, that those communities and their economies would continue to grow and develop, sustained by natural resources and the increasing stores of wealth that the exploitation of these produces. Philosophers and politicians have of course recognized that resources were scarce and the subject of constant competition. That is why principles of justice must be developed to regulate their distribution. But most have believed that there existed and would continue to exist enough to sustain economic growth and development into the foreseeable future. This assumption that economies must and would expand, constantly searching out new resources (and markets), is an essential aspect of capitalism. However, Marxists have also assumed the potential for unlimited economic growth.