1995 | OriginalPaper | Chapter
Social ideology: closure legitimated?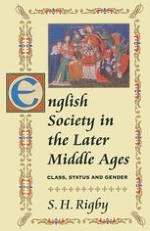 Author: S. H. Rigby
Publisher: Macmillan Education UK
Log in
The social structure of late medieval England can be seen in terms of a variety of specific forms of social exclusion, such as class, order, gender and status-group. But how were such forms of exclusion maintained and reproduced? One answer, in the case of gender in particular, is that contemporary forms of exclusion themselves divided those who were excluded, preventing the emergence of any sense of shared identity or common interest on the part of those defined as socially inferior. Another is that even where the excluded were capable of organising usurpationary resistance to social exclusion, the coercive apparatus of the state acted as a force to buttress forms of social exclusion. Certainly, unlike the Capetian monarchy in France, the English Crown was unwilling to lend its support to the revolts of townsmen against their overlords in their struggle for municipal self-government or to act as a counterweight to seigneurial authority in the peasants' resistance to the landlords' offensive of the thirteenth century. Historians have tended to be impressed by the extent of public authority in medieval England when compared with the strength of private jurisdictions found in other parts of Europe. Yet, in practice, what mattered 'was not so much what the law was, as who administered it, and in whose interests'.