2012 | OriginalPaper | Chapter
9. Something About Everything: Quantificational Logic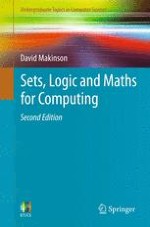 Author: David Makinson
Publisher: Springer London
Log in
Abstract
Although fundamental, the logic of truth-functional connectives has very limited expressive power. In this chapter we go further, explaining the basic ideas of
quantificational
(alias
first-order
or again
predicate
) logic, which is sufficiently expressive to cover most of the deductive reasoning that is carried out in standard mathematics and computer science.
We begin by presenting its language, built around the
universal and existential quantifiers
, and the ways they can be used to express complex relationships. With no more than an intuitive understanding of the quantifiers, some of the basic
logical equivalences
involving them can already be appreciated. For a deeper understanding, we then present the
semantics
of the language, which is still bivalent but goes beyond truth tables. This semantics may be given in two versions,
substitutional
and
x-variant
, which, however, are equivalent, under a suitable condition, for the basic logical relations. After explaining the distinction between
free
and
bound
occurrences of variables, and the notion of a
clean substitution
, the chapter ends with a review of some of the most important
logical implications
with quantifiers and with the identity relation.