2005 | OriginalPaper | Chapter
South Africa in a Post-Colonial World: Modernising or Eroding Apartheid?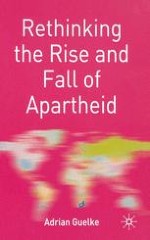 Author: Adrian Guelke
Publisher: Macmillan Education UK
Log in
A week after Verwoerd's assassination on 6 September 1966, the National Party parliamentary caucus chose the Minister of Justice, Police and Prisons, Balthazar Johannes Vorster, as his successor. He was unopposed. Vorster owed his election as Prime Minister to the role he had played in crushing African nationalist opposition to the government. Having been interned during the Second World War for pro-Nazi sympathies as a member of the Ossewa Brandwag (OB), he had a controversial past that added to his reputation as a tough, authoritarian leader. In fact, he was by no means as formidable a figure as his predecessor. He was far more collegial in the way he ran his government. A great deal of leeway was left to individual ministers. While operating with the broad ideological framework established by Verwoerd, Vorster was also more flexible in his interpretation of policy. At the same time, the need for adjustments to existing practices became more pressing during Vorster's premiership as the world moved further into a post-colonial era. He was in power for just over twelve years. That left its mark on both the implementation and interpretation of apartheid, which is reflected in the literature on the politics of South Africa that appeared during his premiership.