2001 | OriginalPaper | Chapter
Sovereign Abjection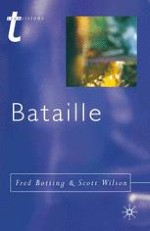 Authors: Fred Botting, Scott Wilson
Publisher: Macmillan Education UK
Log in
What is the essential paradox at the heart of the Petrarchan lover? Perhaps that the subject is at its most exalted point when most abject, that the splendour of the endlessly reiterated 'I' is predicated upon suffering and torment, and that ultimately the zenith of being is death:
Ma canto la divina sua beltate che quand' i' sia di questa came scosso sappia 'I mondo che dolce e la mia morte

.

[But I sing her divine beauty, that when I have departed from this flesh the world may know that my death is sweet.] (Francesco Petrarch,

Canzoniere

ccxvii; 1976)
Death is the highest state of existence because (it is hoped) death may confer eternal life through, on the one hand, the immortality of fame and the 'laurel' of Poet, or on the other hand, 'imaginary fusion' with Laura and continuity with God. Petrarch's
Canzoniere
, and the innumerable sonnet sequences that followed it, are concerned with individual transcendence. But coupled with this is the inevitability of despair, since it is clear that such individual transcendence is, strictly speaking, impossible. Put simply, the Petrarchan lover is anguished because the desired identification with God and the entirety of being demands precisely the loss of the sense of individuality upon which such desire is predicated. Furthermore, the poet's means of extension — language and death — threaten not so much continuity or immortality, but rather dispersal and obliteration into contentless space.