2012 | OriginalPaper | Chapter
7. Squirrel Math: Trees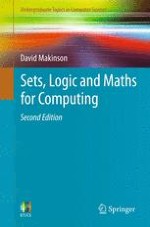 Author: David Makinson
Publisher: Springer London
Log in
Abstract
This chapter introduces a kind of structure that turns up everywhere in computer science: trees. We will be learning to speak their language – how to talk about their components, varieties and uses – more than proving things about them. The flavour of the chapter is thus rather different from that of the preceding one on probability: more use of spatial intuition, rather less in the way of demonstration.
We begin by looking at trees in their most intuitive form –
rooted
(
alias directed
) trees – first of all quite naked and then clothed with
labels
and finally
ordered
. Special attention will be given to the case of
binary trees
and their use in search procedures. Finally, we turn to
unrooted
(
or undirected
) trees and their application to
span
graphs. As always, we remain in the finite case.