2007 | OriginalPaper | Chapter
Still an Anarchical Society?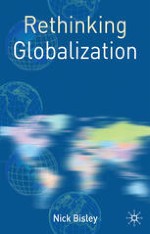 Author: N. Bisley
Publisher: Macmillan Education UK
Log in
Although much of this book has sought to damp down the enthusiasm of many of the early globalization boosters the argument presented here should not be confused with that of the arch sceptic. Globalization is an important feature of the current international system. From the challenges of terrorism to the dynamism of global financial markets, the influence of globalization can be discerned in almost all fields that shape the character of contemporary world politics. The norms and rules of international politics, as well as the strategies of states, cannot be analyzed without considering the impact of this complex and multifaceted phenomenon. Yet due to precisely this diffuse character, it is extremely difficult to pin down just how its impact is being felt. Globalization matters, on that it is hard to disagree. How much it matters, where and to what extent is a much more complex affair. When one is dealing with something as conceptually slippery as the structure of world politics, then this is doubly so.