2010 | OriginalPaper | Chapter
Structure: From Resolution to Dislocation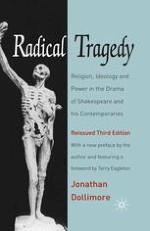 Author: Jonathan Dollimore
Publisher: Macmillan Education UK
Log in
In his analysis of Anglo-American literary criticism John Fekete has identified what he sees as its fundamental preoccupation, namely:
A questioning of all forms of objectivity in relation to a

telos

of harmonic integration … The central problematic of the tradition is structured by questions of unity and equilibrium, of order and stability. From the beginning, but increasing systematically, the tradition embraces the 'whole' and structures a totality without struggle and historical movement. (

The Critical Twilight

, p. 195)
In this chapter I propose to look first at this tradition's
1
mediation of Jacobean tragedy, second at an alternative, almost entirely ignored yet far more productive critical perspective deriving from Brecht. I propose Brecht as the crucial link between Jacobean drama and the contemporary materialist criticism — first, because he was closely involved with adapting that drama (especially plays by Marlowe, Shakespeare and Webster), acknowledging in the process that it was a formative influence on his own work;
2
second, because Brecht anticipated most of the important issues in materialistic critical theory.