2013 | Studying History | Book
Film and History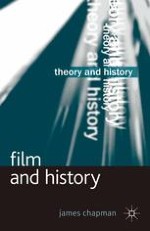 Publisher: Macmillan Education UK
Print ISBN: 978-0-230-36387-8
Electronic ISBN: 978-1-137-36732-7
About this book
Film is the pre-eminent mass medium of the modern age. It is a valuable source of evidence for the study of both the past and the contemporary world, and is a social practice that has affected the lives of millions. How can historians engage with this important and influential medium?

Written for both students and teachers, Film and History:

• provides a concise, accessible introduction to the use of film in historical enquiry and a summary of the main theoretical debates
• charts the development of film history as a subject area and a discipline in its own right
• considers different approaches to film history, including film as an art form, as ideology, as a historical source, and as a social practice
• includes case studies to ground discussion of theories and approaches in specific examples.

Wide-ranging and authoritative, Film and History equips students with the methods both to analyse film texts and to understand the place of film in history and culture.

Title

Film and History

Publisher

Macmillan Education UK

Print ISBN

978-0-230-36387-8

Electronic ISBN

978-1-137-36732-7

Copyright Year

2013

DOI

https://doi.org/10.1007/978-1-137-36732-7

Author:

James Chapman


Keywords