2015 | OriginalPaper | Chapter Open Access
4. Support Vector Regression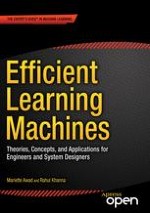 Authors: Mariette Awad, Rahul Khanna
Publisher: Apress
Log in
Abstract
Rooted in statistical learning or Vapnik-Chervonenkis (VC) theory,
support vector machines
(SVMs) are well positioned to generalize on yet-to-be-seen data. The SVM concepts presented in
Chapter 3
can be generalized to become applicable to regression problems. As in classification,
support vector regression
(SVR) is characterized by the use of kernels, sparse solution, and VC control of the margin and the number of
support vectors
. Although less popular than SVM, SVR has been proven to be an effective tool in real-value function estimation. As a supervised-learning approach, SVR trains using a symmetrical loss function, which equally penalizes high and low misestimates. Using Vapnik's -insensitive approach, a flexible tube of minimal radius is formed symmetrically around the estimated function, such that the absolute values of errors less than a certain threshold are ignored both above and below the estimate. In this manner, points outside the tube are penalized, but those within the tube, either above or below the function, receive no penalty. One of the main advantages of SVR is that its computational complexity does not depend on the dimensionality of the input space. Additionally, it has excellent generalization capability, with high prediction accuracy.