2015 | OriginalPaper | Chapter
Sustainability and the City?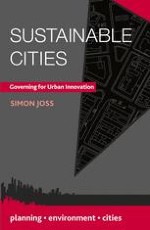 Author: Simon Joss
Publisher: Macmillan Education UK
Log in
The' sustainable city' is a seemingly simple and alluring proposition, which holds the promise of reducing cities' negative impact on the local and global environment while concurrently making urban areas more attractive and convenient as places in which to work and live. A closer look, however, reveals a picture many times more complex: urban sustainability has multiple dimensions, each of them elaborate and co-existing in intricate relationships, often causing tension. Conceptually as well as analytically, the sustainable city can be difficult to define and delineate, as it crosses disciplinary boundaries, mixes normative assumptions with empirical observations, and is closely shaped by specific geographical, cultural and political contingencies. This opening chapter begins to unravel this expansive, captivating phenomenon, by considering key sustainable city dimensions and identifying underlying challenges confronting the study and practice of urban sustainability.