Hint
Swipe to navigate through the chapters of this book
2014 | OriginalPaper | Chapter
2. The Basics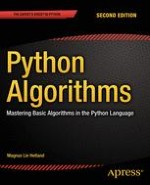 Author: Magnus Lie Hetland
Publisher: Apress
Log in
Please log in to get access to this content
To get access to this content you need the following product:
1
The
Entscheidungsproblem
is a problem posed by David Hilbert, which basically asks whether an algorithm exists that can decide, in general, whether a mathematical statement is true or false. Turing (and Alonzo Church before him) showed that such an algorithm cannot exist.
2
There are also Turing machines that don't solve any problems—machines that simply never stop. These still represent what we might call
programs
, but we usually don't call them algorithms.
3
Because input and output are of the same type, we could actually just specify a relation between A and A.
4
For an "out-of-the-box" solution for inserting objects at the
beginning
of a sequence, see the black-box sidebar on
deque
in
Chapter 5
.
5
For the "Cubic" and "Polynomial" row, this holds only when
k
≥ 3.
6
Interestingly, once a problem is shown to have a polynomial solution, an
efficient
polynomial solution can quite often be found as well.
7
I'm using lg rather than log here, but either one is fine.
8
If the elements are ints, the running time of each += is constant. However, Python also support big integers, or longs, which automatically appear when your integers get big enough. This means you can break the constant-time assumption by using really huge numbers. If you're using floats, that won't happen (but see the discussion of float problems near the end of the chapter).
9
Spoiler: The complexity of this example is still Θ(
n
2
).
10
11
12
No, not the network kind, which is discussed later in this chapter. The other kind—plots of some measurement for every value of some parameter.
13
With IDREFs and symlinks, respectively, XML documents and directory hierarchies are actually general graphs.
14
Sets were introduced in Python 2.3, in the form of the
sets
module. The built-in set type has been available since Python 2.4.
15
16
This expression is guaranteed to work from Python 2.6 onward. In earlier versions, special floating-point values were platform-dependent, although
float('inf')
or
float('Inf')
should work on most platforms.
17
That is, the comments are inadequate and are presented to demonstrate the problem with most explanations.
18
This kind of trouble has led to disaster more than once (see, for example,
www.ima.umn.edu/∼arnold/455.f96/disasters.html
).
19
20
Sage is a tool for mathematical computation in Python and is available from
http://sagemath.org
.
21
Title

The Basics

DOI

https://doi.org/10.1007/978-1-4842-0055-1_2

Author:

Magnus Lie Hetland


Publisher

Apress

Sequence number

2

Chapter number

Chapter 2