2010 | OriginalPaper | Chapter
The Beginning of a New World Order?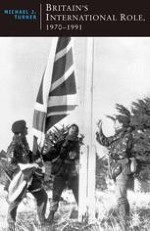 Author: Michael J. Turner
Publisher: Macmillan Education UK
Log in
In the early and mid-1970s, many observers thought they were witnessing the construction of a new world order based on bargaining, tolerance and mutual respect. The Americans and Soviets were serious about negotiating with each other, and SALT produced important agreements. Superpower détente affected and was affected by the thaw in Europe, where the status of Berlin, links between the two Germanys, and diplomatic, economic and other contacts between Western Europe and the USSR and eastern bloc were all being addressed. Britain's international role and relationships began to change in line with these developments, but the change should not be exaggerated. The Cold War in Europe and beyond was certainly not ended, and hostility and suspicion were never eradicated. Western governments quarrelled with each other on a range of issues. In Asia there was a war between India and Pakistan. There was a coup in Chile. The Middle East saw war and an intensification of long-existing rivalries. The United States and Soviet Union went on competing with each other even while pursuing détente.