2014 | OriginalPaper | Chapter
The Board of Directors: Effective Management or A Reflection of Social Inequality and Prejudice?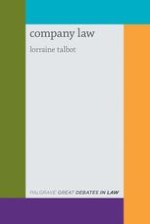 Author: Professor of Law Lorraine Talbot
Publisher: Macmillan Education UK
Log in
One of the key manifestations of a company's separate corporate personality is the existence of a board of directors, which is the company's decision-making body. The board of directors is responsible for all decisions relating to the business of the company, its organisational and financial strategies and its resource decisions, including human resources. The existence of a board which acts for the company is yet another manifestation of the limited nature of shareholders' ownership. While shareholders may own an entitlement to dividends, they do not own the company per se and so they do not generally speak for the company. It is only in extremis, when the board is breaching its duty to the company and profiting by doing so,1 that the shareholder may seek the court's permission to act on the company's behalf in place of the board. When a shareholder seeks to directly represent the company, this is known as a derivative action because the shareholder is deriving that right from a wrong done to the company. Such an action, in that it so radically departs from the governance norm of the board representing the company, has traditionally been highly controlled by the courts, as Cheffins notes (see Chapter 1). Derivative actions enact Alchian and Demseltz's vision that shareholders will monitor the managers because they will personally gain from enhancing any residual returns.2 Alchian and Demseltz view monitoring as a fluid mechanism; the law significantly restricts its use.