2013 | OriginalPaper | Chapter
The Children's Book — Not Suitable for Children?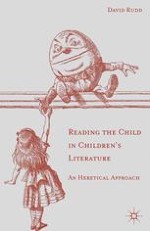 Author: David Rudd
Publisher: Macmillan Education UK
Log in
In this final chapter, as at the end of the last, we find ourselves returning to Peter Pan, a text that, as Rose also found, it is hard to escape when discussing children's literature. Even if we do not fully accept Rose's thesis, it is undoubtedly the case that the books categorised as children's fiction almost always have children at their centre. In some ways this might seem obvious, tautological even: the books are for children, after all. But without rehearsing Rose yet again, this seeming obviousness is just what she queries; that is, the extent to which these children are constructed in particular ways by adults, who thereby try to ensure that the former are shown their rightful place.