2014 | OriginalPaper | Chapter
The China Model?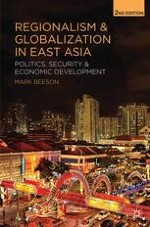 Author: Mark Beeson
Publisher: Macmillan Education UK
Log in
It is hard to overstate the significance of the 'rise of China' for the world, let alone for East Asia. Even if this is more of a re-emergence than an entrance on to the world stage, it is a development of long-term global significance, the consequences of which will reverberate throughout the twenty-first century. For East Asia in particular, China's re-emergence as a world power presents enormous opportunities and challenges — and even threats, perhaps. In short, whatever the leaders of China decide to do over the coming decades will have a profound influence on its neighbours and help to shape the East Asian region. As we shall see in more detail in Chapter 11, China will have a large say in deciding whether there actually is an 'East Asian region' as such, or whether the dominant rubric will be something more expansive and/or inclusive. It is therefore important to look at China's developmental experience in some detail as it is already the most significant actor in the region and is likely to become increasingly so. Indeed, for some observers, it is only a question of time before China comes to 'rule the world' (Jacques 2009).