2020 | OriginalPaper | Chapter
The Common Law of Contract: Essential or Expendable?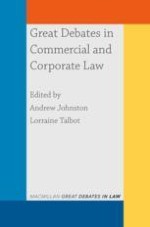 Author: Catherine Mitchell
Publisher: Macmillan Education UK
Log in
The functions and significance of contract law, on the classical model at least, appear clear and undeniable. Along with the recognition and protection of property rights, a state-endorsed system of contract enforcement is one of the key constituents of a market economy. The law tells us how legally enforceable agreements are created, and it polices the contract contents, the excuses for non-performance and the remedies for breach. The principle of freedom of contract lies at its heart: individuals, rather than the state, are the best judge of their own preferences and are best equipped to identify opportunities for the pursuit and satisfaction of these preferences via a system of voluntary exchange. As well as providing the rules governing this process, contract law has generated a rich theoretical literature, using a variety of methodological perspectives to scrutinise the nature of contractual liability. There seems little room for doubt that a robust system of contract law lays legitimate claim to be a pillar of the liberal social and economic order and one of the hallmarks of a developed nation-state. Small wonder then that contract law occupies a distinct space in the curriculum of the UK undergraduate law degree. It is one of the foundations of legal knowledge and a core subject for the aspiring legal professional. It provides a grounding in common law method and forms the bedrock upon which the more specialised regulation of specific contracts (between employer–employee, consumer–business and landlord–tenant, for example) is built.