2005 | OriginalPaper | Chapter
The Debate on the Nature of South African Racial Policies: Totalitarian or Colonial?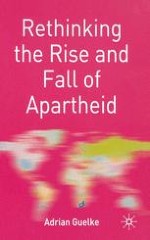 Author: Adrian Guelke
Publisher: Macmillan Education UK
Log in
The assertion that the government of South Africa prior to 1994 was totalitarian is generally based on one or other of two grounds. They were the arbitrary behaviour of agents of the state seemingly unconstrained by law or legal principle and the manner in which the country's racial policies affected the lives of its citizenry in all aspects from the cradle to the grave. Admittedly, in some accounts a clear distinction was not made between these two aspects of the governance of South Africa. Consequently, it became relatively common for both the racial policies adopted by the country's white minority regime and the security measures it took to defend itself to be identified with the single word apartheid. This issue did not arise in the context of segregation, but what made it part of the debate on the nature of white minority rule in South Africa was the question as to whether it was qualitatively different from apartheid or not. Since segregation tended to be associated with the European colonial era, one implication of the assertion that apartheid was not qualitatively different from segregation was that colonial was a more appropriate label for South African racial policies than totalitarian.