2016 | OriginalPaper | Chapter
The Decline of Citizen Engagement?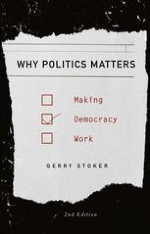 Author: Gerry Stoker
Publisher: Macmillan Education UK
Log in
This chapter examines the activism of ordinary citizens in democracies and their engagement in politics. It explores evidence that suggests a propensity for engagement that is widely but thinly spread, and is unevenly distributed. It further argues that the dominant form of engagement is moving from collective and intensive involvement towards more individualistic and 'woolly' political acts that have an episodic character. Systems of democratic governance are not so much groaning from the pressure of critical citizens but creaking from the impact of semi-detached but occasional assertive citizens. It would seem unlikely that new forms of participation using new technology will transform the fundamental dynamics of engagement, although it may change its form. As John Hibbing and Elizabeth Theiss-Morse argue, people want to be involved, but on their terms and on an intermittent, piecemeal and sporadic basis.