2011 | OriginalPaper | Chapter
The Decline of Urban Politics?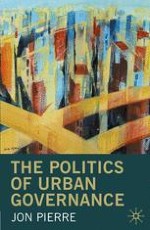 Author: Jon Pierre
Publisher: Macmillan Education UK
Log in
There is something mysterious, almost incomprehensible, about urban politics in much of the academic literature, as well as in political debate. Both empirical research and the philosophical, normative discourse on urban politics and local democracy are replete with seemingly contradictory statements and beliefs. Urban politics and local political debate have always been accorded strong positive values and processes of socialization and a school in democracy, from John Stuart Mill and de Tocqueville onwards. But for such debate not to become a meaningless ritual, local political institutions must have some autonomy in relationship to the state and some leverage to steer the local society. If they do not possess those resources, why bother to engage in local politics? Why, critics would ask, should citizens engage in political debate about policy choice when there are no real choices to be made?