2001 | OriginalPaper | Chapter
The Disappearing Institution?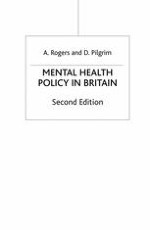 Authors: Anne Rogers, David Pilgrim
Publisher: Macmillan Education UK
Log in
This chapter returns to the enduring legacy of the old asylum system. Whether the focus has been on the purported impact of pharmacological innovations, the fiscal crisis of the state or a shift in psychiatric discourse, most of the arguments of policy analysts suggest a demise of institutional arrangements, and their predominant displacement by community mental health work which we discussed in the preceding chapter. The re-orientation toward community management has been accompanied by changes in the way in which mental health has as a topic been treated by sociology and social policy. Not only has the relevance of inpatient work faded from view in theoretical analyses, compared to past work on the total institution as exemplified by Asylums (Goffiman, 1961), but a 'post-modern' trend has demoted the political, economic and experiential importance of coercive bio-medical regimes.