2017 | OriginalPaper | Chapter
The Euro: Economic Success or Disaster?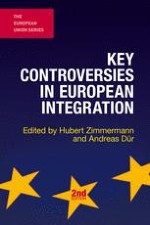 Authors: Hubert Zimmermann, Andreas Dür
Publisher: Macmillan Education UK
Log in
While the euro, since its very origins, has always been a deeply political project, its fate and success will hinge most likely on whether it is able to enhance the economic well-being of the European peoples. After all, the economies of scale inherent in a single currency for a deeply integrated economic area were always cited as one of its most obvious benefits. And while the euro as political project has been contested from its very beginning (see the chapters by H. Enderlein and A. Nölke in this volume), it appeared rather uncontroversial that a monetary union sooner or later made economic sense for the EU. Most foreign observers would have preferred a later introduction of the common currency at a time when the eurozone was closer to a so-called optimum currency area that combines capital and labour mobility with risk sharing mechanisms, such as a common budget. But its principal desirability was quite uncontested – until the euro crisis erupted. After five years of crisis, economists across the globe argue that instead of enhancing welfare, the euro has acted as an instrument impoverishing many to the benefit of few. While there is relative consensus on the immediate causes of the crisis, opinions are strongly divided on whether the eurozone suffers from inherent flaws resulting in a negative economic performance, or whether it is an idea which has a valid economic rationale and just needs some adjustments to work.