2017 | OriginalPaper | Chapter
The European Union: Success or Failure?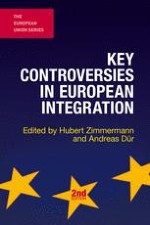 Authors: Hubert Zimmermann, Andreas Dür
Publisher: Macmillan Education UK
Log in
Is the European Union a success or a failure? Responses to this question could not be more different. For a long time, the EU had been celebrated and presented as a model for the rest of the world. It has been credited with peace and prosperity in Europe. In the early 1950s, when the origins of the current union were laid with the creation of the European Coal and Steel Community (ECSC), Europe had just emerged from World War II. Germany and France had fought three major wars in less than a century. Only five years after the end of World War II, the two countries agreed to pool the production of coal and steel and thus make any future wars less likely. Moreover, the shattered economies of the countries participating in the ECSC and then the European Economic Community (EEC) experienced high growth rates in the 1950s and 1960s, allowing Europeans to catch up, in terms of economic strength, with the United States. The EU also claims a long series of successful transitions of accession countries to democracy. Many of the newer member states did not have a long tradition of democracy when entering the EU. Nevertheless, their political systems have stabilized, with as of now no country backsliding into outright dictatorship.