2016 | OriginalPaper | Chapter
The Female Players and All-Female Companies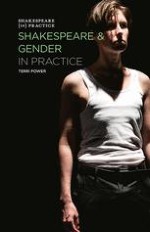 Author: Terri Power
Publisher: Macmillan Education UK
Log in
'Male classical actors might be better at playing men. But women are better at playing human beings … And Shakespeare is about human beings' (Rebecca Patterson, as quoted in
The Wall Street Journal
22 April 2012). Influenced by the Commedia dell'arte troupes wherein women played both male and female roles in the 1660s, women began playing male roles on stage in England beginning in the Restoration period.
1
According to surviving records, one of the first male Shakespeare roles to be performed was that of Hamlet acted by Fanny Furnival at the Smock Alley Theatre in Dublin, 1741 (Howard 2009: 38). However, besides Howard's in-depth study of female Hamlets, very little documentation and scholarship has focused on this area of theatrical performance. Some historic performances are noted in a few resources, such as Charlotte Cushman's portrayal of Romeo in 1845, Sarah Siddons' Hamlet in 1775 and Sarah Bernhardt's 'manly' approach to Hamlet in 1899.
2
Despite a lack of records today, women performing as male Shakespeare characters was so prevalent in theatre that in 1911
The New York Times
ran an article entitled 'Women in Male Roles: Long List of Prominent Actresses Who Have Yielded To That Ambition' (Anon, 1911) and in it the reporter writes:
Since Siddons there have been more than fifty female Hamlets, many women Romeos and Shylocks, and Iagos and Richards. In fact, with the exception of Macbeth, Brutus, and Coriolanus, nearly every Shakespearean male character has been essayed by some actress.