2017 | OriginalPaper | Chapter
The Future of the Euro: Union or Disintegration?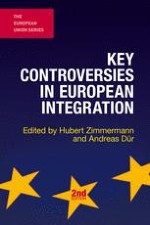 Authors: Hubert Zimmermann, Andreas Dür
Publisher: Macmillan Education UK
Log in
When the euro was introduced in 2002, many claimed that this was the most momentous event in the history of the European Union since the Rome treaties in 1957. And they were right: no other move towards integration has had the same potential of tying together the fates of the currently 19 member states in the eurozone. If any illustration were necessary for this, the euro crisis that started in 2010 and reached its apex with the Greek drama of 2015 has provided ample and unwelcome evidence. The drama of a potential default of highly indebted Southern member states has kept EU leaders and global financial markets on their toes. The actual or looming contagion of the problem to the whole EU makes this crisis the most serious in the history of the Union.