2003 | OriginalPaper | Chapter
The Great War: watershed or continuity?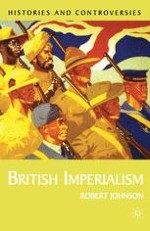 Author: Robert Johnson
Publisher: Macmillan Education UK
Log in
The First World War was a global conflict because it was a war of empires. It profoundly affected the British Empire and was known to contemporaries as the Great War. Ever since, scholarship of the war has focused primarily on casualty statistics and controversy has arisen over the relationship between leadership and the 'butcher's bill'. Republicans in Australia draw attention to the sacrifice of the 'Diggers' at Gallipoli as evidence of British incompetence, and Canadians at the Western Front memorials in France regard the First World War as the crucible of a fully independent nationhood. There is little doubt that the war dead still evoke strong emotions. In Ireland, nationalists felt compelled to make their own blood sacrifice in 1916 against the background of the war. Indeed, the war encouraged large numbers throughout the Empire to reconsider their position vis-à-vis Britain, producing both fierce loyalty and bitter enmity. However, hundreds of thousands of imperial subjects volunteered to serve the Empire, and many of their units sustained high casualties without opposition to British leadership, unlike the mutinies that occurred in France and Russia. India, for example, produced the largest volunteer army in history for the Empire. Those who had eagerly sought imperial consolidation before the war were encouraged that, in the supreme test, there was a strong sense of solidarity. This was due, in part, to the sense that the Empire was on trial.1 Men, food, raw materials, equipment and money were freely offered and these sustained Britain's imperial war effort. Outside of the European theatre, imperial troops played a significant operational role.