2017 | OriginalPaper | Chapter
THE HISTORICAL CONTEXT OF THE RISK PARADIGM IN MENTAL HEALTH POLICY AND PRACTICE: HOW DID WE GET HERE?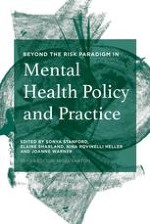 Authors: Sonya Stanford, Nina Rovinelli Heller, Elaine Sharland, Joanne Warner
Publisher: Macmillan Education UK
Log in
The chapter begins by briefly setting the 'rise of risk' in mental health policy and practice in its wider context. It demonstrates that the idea of risk not only dominates mental health policy, practice and experience; it is also the major organizing paradigm in health and welfare services more widely. Of even greater significance is the fact that risk dominates public, political and cultural life in general. The language of risk is everywhere: in debates about health, childcare, pensions planning, banking, child protection, crime, what we eat, how we use our leisure time, what we buy. The idea of risk also characterizes organizational cultures and institutional life, where concern for the 'reputation risk' of those that occupy positions of power plays a particularly significant – and problematic – role (Power, 2004).