1998 | OriginalPaper | Chapter
The Last Empire?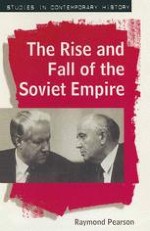 Author: Raymond Pearson
Publisher: Macmillan Education UK
Log in
Proverbially, the problem with life is that it must be lived forwards but can only be understood backwards. It is tempting to review the career of the Soviet Empire from the close but Olympian vantage point of the later 1990s and pontificate with all the glib self-confidence engendered by 20/20 hindsight. Aside from the inexcusable professional 'bad form' exhibited by indulgence in what E. P. Thompson once called 'the insufferable condescension of posterity', surrender to this temptation exposes the historian to (at least) three specific hazards. The first is the practical difficulty that the Soviet regime dedicated so many of its formidable resources to concealing the truth about itself that the level of involuntary ignorance of the dynamics of the Soviet Empire remains perilously high. The second is the historiographical likelihood that post-Soviet scholarship may at any time employ unprecedented access to hitherto confidential official documentation to revolutionise perceptions of the Soviet period. And the third is the political probability that developments within the ex-Soviet Empire during the late 1990s will colour retrospective historical interpretations of what may be termed the 'near-past'.