2008 | OriginalPaper | Chapter
The Mod Culture in Swinging Britain, 1964–7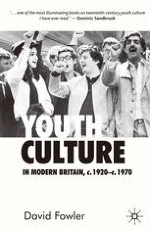 Author: David Fowler
Publisher: Macmillan Education UK
Log in
Few historians of Modern Britain have probed the significance and impact of the Mod culture, either in London or nationally, during the Swinging Sixties.
1
Arthur Marwick's colossal book on the 1960s, for example, devotes less than a paragraph to the Mod movement.
2
Like all the historians and sociologists who have written about the Mods, Marwick sees the movement as a product of affluence and, in its initial phase, a product of classless 'Swinging London'.
3
The Mod culture is only depicted through anecdotes, but those who recall the heady days of the 'High Sixties' Mod culture reminisce proudly about their obsession with clothes and their hedonistic lifestyle. As one apprentice printer of the time, cited in Marwick, recalled:
Monday was Tottenham Royal, Tuesday the Lyceum, Wednesday the Scene, or maybe stay in and wash your hair, Thursday Tottenham Royal again (because it was our little hangout), then Friday night was '

Ready Steady Go

' … Then after 'Ready Steady Go' you'd go to the Scene later, Saturday and Sunday was either a party or the Tottenham Royal, then the next week you'd start again.

4