1997 | OriginalPaper | Chapter
The Nature of Authority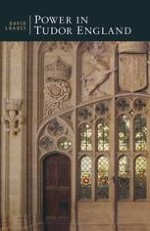 Author: David Loades
Publisher: Macmillan Education UK
Log in
All authority derived ultimately from God. As Thomas Cranmer's
Homily on Obedience
, once of those pieces authorised to be read in churches in the absence of a sermon, put it in 1547:
Almighty God hath created and appointed all things in heaven, earth and waters in most excellent and perfect order. In heaven he hath appointed distinct orders and states of archangels and angels. In the earth he has assigned kings, princes, with other governors under them, all in good and necessary order.

1
Consequently obedience to established authority was a religious duty, but the order envisaged by the homilist was less perfect than he imagined. God worked perforce through human agents, and these were not necessarily arranged in neat hierarchies. There had for centuries been disputes between spiritual and temporal lords over priorities, and the demarkation between their respective jurisdictions. Although the Church had never publicly admitted it, by the end of the fifteenth century this long-drawn-out struggle had ended in compromise. Kings accepted the papal primacy in theory, but largely ignored it in practice. Popes acquiesced in this situation in order to retain the support and cooperation of the secular authorities in the preservation of ecclesiastical discipline.